The Salt Lake City Tribune recently featured MFC's new boat box in their Sunday Money section as one of the hottest (and coolest) outdoor gear items for 2013. Rightfully so.
The Montana Fly Co Waterproof Boat Box can facilitate up to 1,700 flies and is 100% waterproof. We also recently released MFC Boat Box decals so you can creatively customize your boat box with one of our Artist Series designs. As if it couldn't get any better, we also recently announced our Saltwater Waterproof Boat Boxes, which are lighter in color to reduce heat and have thicker slit foam to hold bigger, saltwater flies.
We know, you love it.
MFCs new River Camo Artist Series aluminum fly boxes were recently included in the September issue of Outside Magazine. We don't want to toot our own horn but this little guy is the perfect accessory for any fly fishing trip that doesn't require you to bring every single one of your flies.
MFC Artist Series Aluminum Fly Boxes come in 26 different artist series designs. Each fly box is available with MFC slit foam, so you can easily switch out your flies whenever you need to.
Check out the other patterns and different interior options at Montanafly.com
After a long, hard week at the office, Stirling and his wife Kirtlye hit the river to land a few fish and have an excuse to put their MFC Boat Box to the test. Needless to say it performed under the pressure.
It was an unbelievably beautiful Sunday in Montana. The sun was shining, the fish were biting and Stirling's beard was on in full force.
The two headed out on the Flathead and throughout the day Stirling and Kirtlye were able to land a few good sized cutties with their trillions (ok, hundreds) of flies stored in their Boat Box.
There always comes a time when we all need to take a step back and realize how lucky we are. In addition to being fishermen, we at MFC also try to take a second every once in a while to sit back, take a deep breath and enjoy the beautiful backdrop we call home. Some people, fortunate enough for them, are able to take a little more than a second to take in just how epic our surroundings are.
Where the Yellowstone Goes is a feature-length documentary following individuals on a 30-day drift boat fly-fishing journey along the Yellowstone River. The film will be shown in Missoula this Saturday, June 9th at the Wilma Theatre.Tickets are $10 and there is an awesome BBQ planned at the Grizzy Hackle Fly Shop at 5:30.  See you there!
At Montana Fly Company we're finding all sorts of reasons to be stoked these days. In addition to the b-e-a-U-tiful Montana weather that we have been getting, we also are super excited to welcome Jake Chutz as our recently appointed National Sales Manager.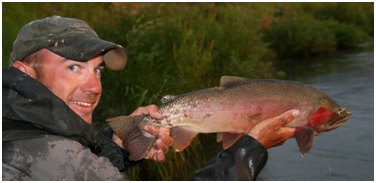 Chutz comes to MFC after being a guide for many years at TroutHunter where he used Montana Fly products while guiding people from all over the world.
Check out the full press release here and welcome, Jake Chutz!
Anybody who's anybody knows that Cody Townsend can shred lines like nobody's business.  That's because it is his business. And he loves it.  But what you may not know is that in addition to being a baller skier, Cody can also tear it up with a fly rod.
Cody has been on planks since he was two years old, but he didn't start fly fishing until much later in life with some buddies from Montana who lived near him in Tahoe. Townsend talks about the serenity he feels and how he's at peace with nature when he's out in the wilderness, scouring for trout.
"Skiing and fly fishing both take you away from people and out into nature. There's a lot of focus involved. In fly fishing, you have to be in tune with what's going on around you—what the bugs are doing, what the water's doing, trying to think where the fish are going to be. It's just like skiing a line, where you've got to think about your sluff, your airs, and your exposure." –Cody Townsend
Now that spring is here, you'll find Cody Town-SENDING it with a rod in his hand and a fish in his net, getting his fishing fix this 2012 season.
Check out the full article on Townsend from the Mountain Magazine Blog here.
The 2nd annual Fly Fishing Film Tour hosted by Casting For Recovery –Montana/Glacier Country Chapter. The event is tonight at 5:30 p.m. at the O'Shaughnessy Center in Whitefish. Tickets are $16 and can be found online or discount tickets are available at select retail stores in Kalispell and Whitefish. A complete list of stores offering tickets, along with additional details can be found on the official Facebook event page.  Proceeds go to our local Casting for Recovery program which provides weekend fly-fishing retreats for Montana women with breast cancer.
There are only 29 days left until the Simms Ice Out, the incredible annual guide event in Bozeman, Montana. This year the Ice Out is April 19th-21st. Mark your calendar, call you guide buddies and plan your trip. It is a-one-of-a-kind event designed just for professional guides.
Montana Fly Company will be there! It's your opportunity to get a good sneak peek at the latest MFC goodies and get your questions answered by our staff. (We plan to have some fun too, of course!)
According to the folks at Simms Fishing Products, here are three reasons to plan on coming to ICE OUT:
Career Building: Every other profession, from doctors to garbage men, have a conference to help them improve their careers. ICE OUT is an industry first for fishing guides: an event to help you improve not only your guiding skills, but how to market your business and plan for the future.
Great Gear: Of course you know Simms makes the best fishing apparel on the planet. This is your chance to stock up with the best deals of the year at our one-night-only Super Sale. Plus, we have invited our industry friends to bring something special to next year's ICE OUT.
Fun: Guide-Olympics, ICE OUT Shoot Out Film Competition, cocktail parties, barbeques, etc. Plus-some of the best fishing of the year.
This year, legendary basketball coach Bobby Knight will be there, giving guides his perspective from 40 years of being guided around the globe.
In addition, you can count on all the good stuff the event always offers:
The Guide Olympics will again pit your skills against other guides
Tons of beer
A Legends Panel
The Super Sale is on Saturday night
We're looking forward to seeing you all there!!!
We are excited to announce the release of North Fork On-The-Fly Whiskey from Glacier Distillery in Coram, Montana. MFC teamed up with the distillery to bring this special edition spirit to market with a unique twist: Every bottle of On-The-Fly has one of four beautiful MFC flies adorning the bottle.
North Fork On-The-Fly is a peach-infused whiskey in the North Fork line. On-The-Fly is a six-month aged North Fork Flood Stage whiskey infused with hand-cut white peaches. The barrel imparts a light oak spice and the peaches give it a golden sweet finish. Wax sealed and adorned with a hand selected Montana Fly Company bug, this limited edition bottle would make a great gift for any fly fisherman.
"Glacier Distillery is a local spirit maker, right here in Northwest Montana," says MFC President, Adam Trina. "It was a natural fit for us. We are excited to make this special edition happen.  I guess we all know that two things that pair nicely are fly fishing and a great whiskey!"
On-The-Fly is non chill-filtered and bottled at 88 proof for maximum flavor. They are only bottling ten cases, so get yours soon. They are available at the Whiskey Barn in Coram, on your way to fish the North Fork. Each bottle has a ready-to-fish bug, one of these for designs:  Oswald's Rastaman Golden #10, Swisher's PMX Royal #12, Royal Stimulator #10, or Perry's Bugmeister#12.
Stirling Tyler fishes. A lot. Last week he and a pal caught 115 fish! When he sent me the email, I of course, questioned his counting skills and he swears, if anything, 115 fish is modest! Anyway, I had to post the pics and share with you some of Stirling's thoughts on the  big day.
Stirling caught a mere 25 Browns on dries and nymphs and his pal, Jamey Curylo caught 90 or so fish on hardware.
"Jamey is one of those guys that may be part fish; he works his way down a river and vacuums every fish out. The weather was gorgeous and we both got our first wet-wading  in of the year. The fly du jour was a size 16 Olive Anderson's Bird of Prey Nymph and a size 10 Tung Pheasant Tail Nymph," recalls Stirling.
Jamey was able to really up the fish count by spending time in this honey hole that Stirling calls the "bachelor party hole," Unfortunately for Stirling, he wasn't able to fish this spot because he spent his time better chasing his wayward beagle around the country hills.
More fishing to come and all the major Montana rivers are starting to look sparkly clean and the fishing is heating up!