Archive for the 'Fishing' Category
As a fishing brand, we do our best to keep up with the tech-times. Despite how much time we spend Googling what the hell "klout" is (which sounds like a disease potentially contracted through an endangered species in some fourth world country), we still somehow can't keep pace with the ever-changing tech age.
As we're sure most of you know, Apple recently released the iPhone 5 - a bigger, more bad-ass version of the iPhone 4. The only difference? As far as we're concerned the only thing that matters is that the display screen approximately 10X bigger than the screen on the iPhone4, meaning that it doesn't fit our iPhone cases. Of course.
All that being said we would like to announce that MFC is planning a release for an iPhone 5 case this month. It's kind of like our own little company New Year's resolution.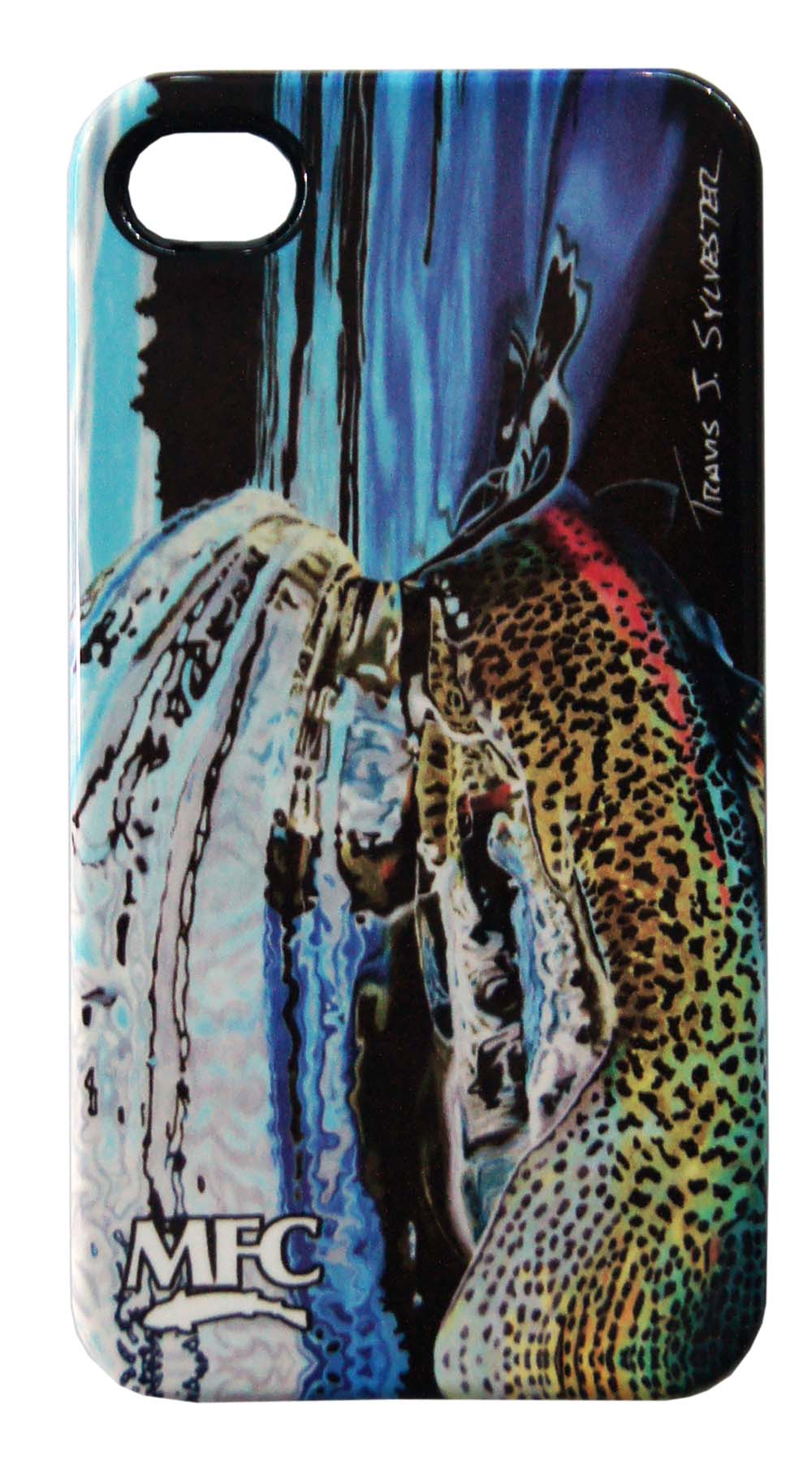 It's going to look like this, only different. Be stoked.
Check out one of our fantastic fly designers and featured "tyer of the moment"  Zack Thurman. He is responsible for more than 30 designs at MFC. Zack has been an avid angler his entire life and began tying flies at a young age. He holds legendary status working at The Fly shop in  Redding, CA. When not cranking away his next creation at the vice, you will find Zack chasing large trout on Stillwaters or Spring Creeks in Southern Oregon and Northern California  in the spring and summer.  And in the fall and winter months he is  chasing Steelhead. Zack has a ton of videos up on the web and he will show you how to tie many of his flies. Check out one of his videos below by clicking on image. Click here for a list of Zack's flies that MFC carries.
The Provo Bros have outdone themselves again–this time with Steelhead and Spines! MFC helped support these two bros (real brothers, not bro brahs) in their epic AK trip with some gear and accessories.
The duo  started their adventure in Alaska with two things on their mind, steelhead and spines. They got what they went to  get, and they had some good times along the way. Watch the video here–it's worth every bit of the eighteen minutes. Also you can spot MFC gear throughout the video:
TIME IS UP!
That's right fellow 'stachers. It's been thirty days and we've received millions (ok, maybe not millions) of submissions for the MFC Movember contest.
We got a whole load of amazing (some amazingly disturbing) photos and, as promised, we have selected the winner of the contest per which photo on the website got the most likes.
FIRST PLACE: Lisa Brain
SECOND PLACE: Toni Ferrini
THIRD PLACE: Nina Corelli
A HUGE thank you to all who participated. We've had a stellar month and we've loved interacting with all of you. Stay tuned to the MFC Blog, Twitter and Facebook for more contests, giveaways, fishporn and overall awesomeness.  And if you want to see the 'stash gallery, click here.
The Gear Institute has awarded the Madison IIa Reel with the Best in Class award for 2012. The testers over at The Gear Institute tested the Madison IIa in a series of locations.
From The Gear Institute: Fishing for rainbow trout on the Yakima River, Washington, and the Crooked River of Central Oregon. Casting for (and catching) big rainbows from a drift boat on Idaho's Henry's Fork and South Fork Snake. Beach fishing for Sea Run Cutthroat (SRCs) trout throughout Puget Sound. Testers included myself, Jim Nelson of the Washington Department of Fish and Wildlife, Donna Meshke and Bree Barton – both skilled outdoorswomen and photographers
The Madison IIa came in with a GI90 rating, meaning " Enthusiastically recommended. Exceptional."
We're stoked on the award, but don't take our word for it. Check out the full review here. http://www.gearinstitute.com/gear-tests/item/montana-fly-company-madison-iia?category_id=973
With the holiday season inching closer we find ourselves spending more money, wearing more ugly sweaters and giving thanks for the people we so fortunately have in our lives.
One of those people is our Fu Manchu-sporting MFC sales rep Stirling Tyler. In addition to providing unbeatable company, he also struts a rockin' beard and provides us with nearly endless #fishporn.
In the past couple of weeks Stirling headed out with "The Jedi," Jerrell Beougher, who caught a pretty nice handful of big browns.
He also recently ventured north to Calgary to fish the Bow with ex-NFL kicker Gary Anderson and his friend Mike Lindsey. Jersey Chaser.
When asked to discuss his fishing escapades with Anderson he provided us with the following quote, depicting articulacy in every line.
"The guy's a friggin' vacuum cleaner on a river. So Sunday we floated Policeman's Flats to McKinnon in a variety of weather: wind, ball-freezing, and then mild in the afternoon. We got 'em good on streamers (Copper Crushers, Sculpin Sparkle Minnows, Olive/Black buggers) and of course on the good 'ol red dirty snake."
Thanks for that poetic depiction, Stirling.
Stay tuned for facial hair and fishing updates every week.
The Fly Fishing Film Tour is an evening of unrivaled entertainment and fishing inspiration (finspiration?). F3T travels around the country showcasing fly fishing films to fish lovers and film buffs. Last year the tour stopped at more than 110 locations, hosting pre-parties at fly shops and giving attendees the opportunity to manhandle the latest and greatest fishing toys on the market. Naturally, we had to be a part of it.
MFC teamed up with F3T to brand what we like to consider the sickest Boat Box yet. It's the same Boat Box you know and love, only with this awesome, new F3T logo on it.
You like? We do too. These beauties will be up for raffle throughout the F3T tour. Stay tuned for the upcoming 2013 F3T schedule and updates.
We know you never get tired of seeing pictures of our fishing escapades that we take on the weekends. And we know you love nothing more than staring at our fish porn while you sit in a desk chair, working away, waiting for the weekend so you can hit the water.
We want you to know that you're not alone. We too sit in an office staring at other fish lovers' photos, just waiting for the clock to hit five so we can get out and snag the next best pic.
Montana Fly Company fly tier Casey Dunnigan just sent us this more than drool-worthy photo of him and a beautiful Brown Trout from the Dream Stream in Colorado. Lucky for you, our readers, we decided to share it with you. We probably couldn't be more jealous if we tried.
All that being said, if you have an impressive photo of you with a fish, or an almost fish, send it to us. We would love to share your fishporn with the world. Don't worry, we'll serve credit where credit is due.
In case any of you were unable to make it to the IFTD show, you may or may not have had the luxury of seeing one of our newer, more awesome flies.
The new MFC Crabby Patty was designed by MFC owner, Adam Trina and is the most advanced, realistic permit catcher on the market! Using real crab back photographs and a clear resin makes for a ultra-realistic crab pattern for saltwater fishing. It features extra large dumbbell eyes at the eye of the hook that dive straight and fast replicating true saltwater crabs.
Check out the new see through Waterproof Fly Case from Montana Fly. The rubber gasket and sealing clamps provide a waterproof box that will protect your flies from submersion.  Not only because it's waterproof–it floats.
This sporty piece is great for the boat or you can stuff it in your backpack for the walk and wade. The clear covers allow you to view your fly selection without opening the box and at 11″ x 8″ x 2.5″ it is big enough to hold flies for all occasions or small enough to categorize your flies and fit into your kit bag. You know you want one.