Archive for the 'MFC News' Category
As a fishing brand, we do our best to keep up with the tech-times. Despite how much time we spend Googling what the hell "klout" is (which sounds like a disease potentially contracted through an endangered species in some fourth world country), we still somehow can't keep pace with the ever-changing tech age.
As we're sure most of you know, Apple recently released the iPhone 5 - a bigger, more bad-ass version of the iPhone 4. The only difference? As far as we're concerned the only thing that matters is that the display screen approximately 10X bigger than the screen on the iPhone4, meaning that it doesn't fit our iPhone cases. Of course.
All that being said we would like to announce that MFC is planning a release for an iPhone 5 case this month. It's kind of like our own little company New Year's resolution.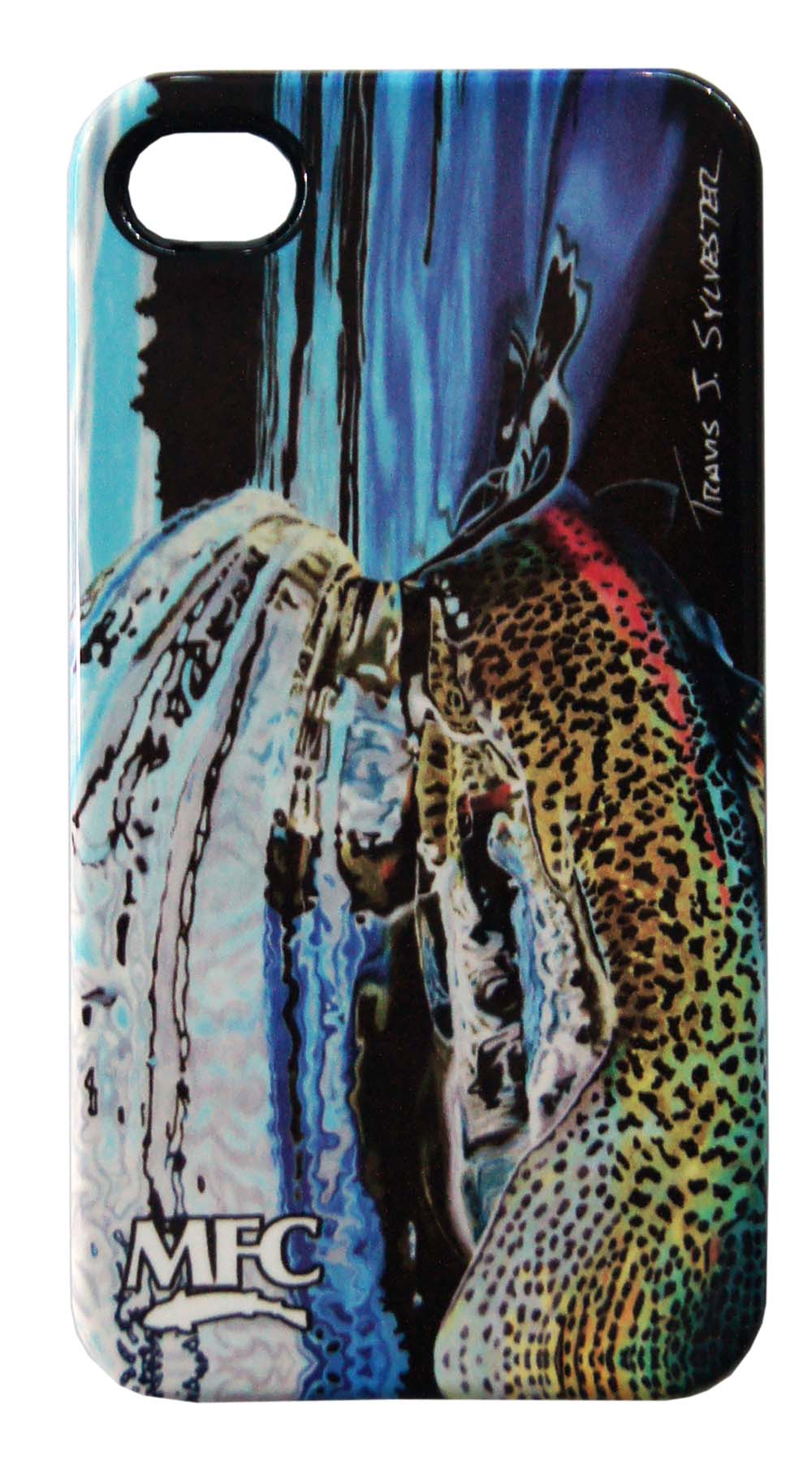 It's going to look like this, only different. Be stoked.
Check out one of our fantastic fly designers and featured "tyer of the moment"  Zack Thurman. He is responsible for more than 30 designs at MFC. Zack has been an avid angler his entire life and began tying flies at a young age. He holds legendary status working at The Fly shop in  Redding, CA. When not cranking away his next creation at the vice, you will find Zack chasing large trout on Stillwaters or Spring Creeks in Southern Oregon and Northern California  in the spring and summer.  And in the fall and winter months he is  chasing Steelhead. Zack has a ton of videos up on the web and he will show you how to tie many of his flies. Check out one of his videos below by clicking on image. Click here for a list of Zack's flies that MFC carries.
As most (all) of you know, on November 1st we started the MFC Movember contest. We knew getting into this that we would be getting some pretty epic photos. But we have to be honest that we didn't think we would be receiving as many amazing photos as we have so far. We have drawn the following two conclusions:
1. Our fans are the shit.
2. It's only the second week of November. We still have three and a half weeks left to blow up this contest like a flame on Rogaine.
Send us a pic of your best stache. It doesn't even have to be your own. It can be yours, your dad's, your mom's, your brother's, your sister's…even some random schmo with a caterpillar on his lip you saw stumbling out of the city courthouse elevator with a bottle of whiskey and a child's bicycle. (Does that only happen to us?)
Contest ends at midnight on November 30th, 2012. Until then, check out some of the submissions we have received so far for MFC Movember. Cheers!
The Gear Institute has awarded the Madison IIa Reel with the Best in Class award for 2012. The testers over at The Gear Institute tested the Madison IIa in a series of locations.
From The Gear Institute: Fishing for rainbow trout on the Yakima River, Washington, and the Crooked River of Central Oregon. Casting for (and catching) big rainbows from a drift boat on Idaho's Henry's Fork and South Fork Snake. Beach fishing for Sea Run Cutthroat (SRCs) trout throughout Puget Sound. Testers included myself, Jim Nelson of the Washington Department of Fish and Wildlife, Donna Meshke and Bree Barton – both skilled outdoorswomen and photographers
The Madison IIa came in with a GI90 rating, meaning " Enthusiastically recommended. Exceptional."
We're stoked on the award, but don't take our word for it. Check out the full review here. http://www.gearinstitute.com/gear-tests/item/montana-fly-company-madison-iia?category_id=973
Check out the new see through Waterproof Fly Case from Montana Fly. The rubber gasket and sealing clamps provide a waterproof box that will protect your flies from submersion.  Not only because it's waterproof–it floats.
This sporty piece is great for the boat or you can stuff it in your backpack for the walk and wade. The clear covers allow you to view your fly selection without opening the box and at 11″ x 8″ x 2.5″ it is big enough to hold flies for all occasions or small enough to categorize your flies and fit into your kit bag. You know you want one.
Last weekend  MFC superstar Stirling Tyler hit the river with famous drummer Danny Seraphine from the band Chicago. It was one of those events where Stirling spent the day serenading him with past Chicago hits while Danny just hoped Mother Nature would drown him out with the sounds of the river and birds. When Danny asked what time they expected to be hitting the river, Stirling responded with witty remarks, such as "Does anybody really know what time it is?" We can only hope Danny is a forgiving drummer.
Needless to say, they hit the Clark Fork and had an amazing day on the water, landing solid fish and singing classics (probably what scared the rest of the fish away.)
Check out his pictures from his incredible day fishing and his failed attempt at bromance.
Thankfully for us Danny was still talking to us by the end of the day. Thanks for such incredible company, Danny!
By the way, did we mention that Stirling is a DRUMMER in a rock band? True story. Thus, the infatuation was clearly amplified.  What a good day it was for Stir.
This weekend join MFC athlete, Cody Townsend,  at Squaw Valley Fly Fishing Festival for casting contests, instruction, and a film series from 1-9 pm at the Squaw Valley Conference Center. This is the first time Squaw Valley has been privy to such a fun event and we couldn't  be happier to help support the cause! We donated a bunch of our new goodies for 2013 to be a part of the raffle and giveaways!
Who – Cody Townsend…and you!
What – Casting lessons, contests, a film festival, raffle and more!
Where – Squaw Valley Conference Center. 1901 Chamonix Place Olympic Valley, CA, 96146
When – Casting classes begin at 2pm, casting competition begins at 3pm, Fly Fishing Film Festival begins at 6:30pm
Entry is $5 for the casting competition. Donations for the Fly Fishing Film Festival will be accepted at the door.
Come out and support a great cause!
July came in hot! We're now spending our days in the sunshine fishing, hiking, running, biking, rafting and playing all the live long day. Well, not really–we're working hard, getting ready for Outdoor Retailer Summer Market 2012.
OR is a trade show in Salt Lake City sponsored by the Outdoor Industry Association.
Droves of exhibitors come from all over the continent show up to rep their wares and network with outdoor industry friends. Needless to say – it's awesome.
We'll be showcasing our industry-leading flies, tying materials, award-winning boat boxes and artist series accessories, including iPhone cases and iPad covers.
We'll also be hosting a San Juan worm tying contest.  Anyone can enter–all you have to do is sit down at the vice in our booth, tie up your masterpiece and submit it.  Then, get your friends to come to the booth and vote for it.
We'll have all the worm fixins. We just need YOU to submit the fly. Check out the rules of the One Fly Open  contest so you can be prepared to submit your most awesomest worm ever.
Please post any questions or comments below!
National Sales Manager Jake Chutz and Regional Sales Rep Stirling Tyler of MFC played hooky this weekend and headed out to "The Bob" for an epic weekend of beard growing, beer drinking and most importantly, fishing. Stirling (who has been questioned more than once about being a yeti due to his unruly facial hair) and Jake hooked some pretty impressive bullies and cutties while they were out in the Bob Marshall Wilderness. Check out their photos (and Stirling's beard) below.
To report a yeti sighting please contact: Yeti Services of Montucky (YSM): 406-555-2425.
Now that the snow has melted, Montana Fly head of factory operations Kris Keller is finally back in the United States after spending the winter in Thailand.
It was a wildly busy winter for Kris but he's ready for an action-packed fly-fishing season stateside.
Since his return from the far east Keller has been spending his days guiding on the Missouri and enjoying the beautiful Montana sunshine.