As a fishing brand, we do our best to keep up with the tech-times. Despite how much time we spend Googling what the hell "klout" is (which sounds like a disease potentially contracted through an endangered species in some fourth world country), we still somehow can't keep pace with the ever-changing tech age.
As we're sure most of you know, Apple recently released the iPhone 5 - a bigger, more bad-ass version of the iPhone 4. The only difference? As far as we're concerned the only thing that matters is that the display screen approximately 10X bigger than the screen on the iPhone4, meaning that it doesn't fit our iPhone cases. Of course.
All that being said we would like to announce that MFC is planning a release for an iPhone 5 case this month. It's kind of like our own little company New Year's resolution.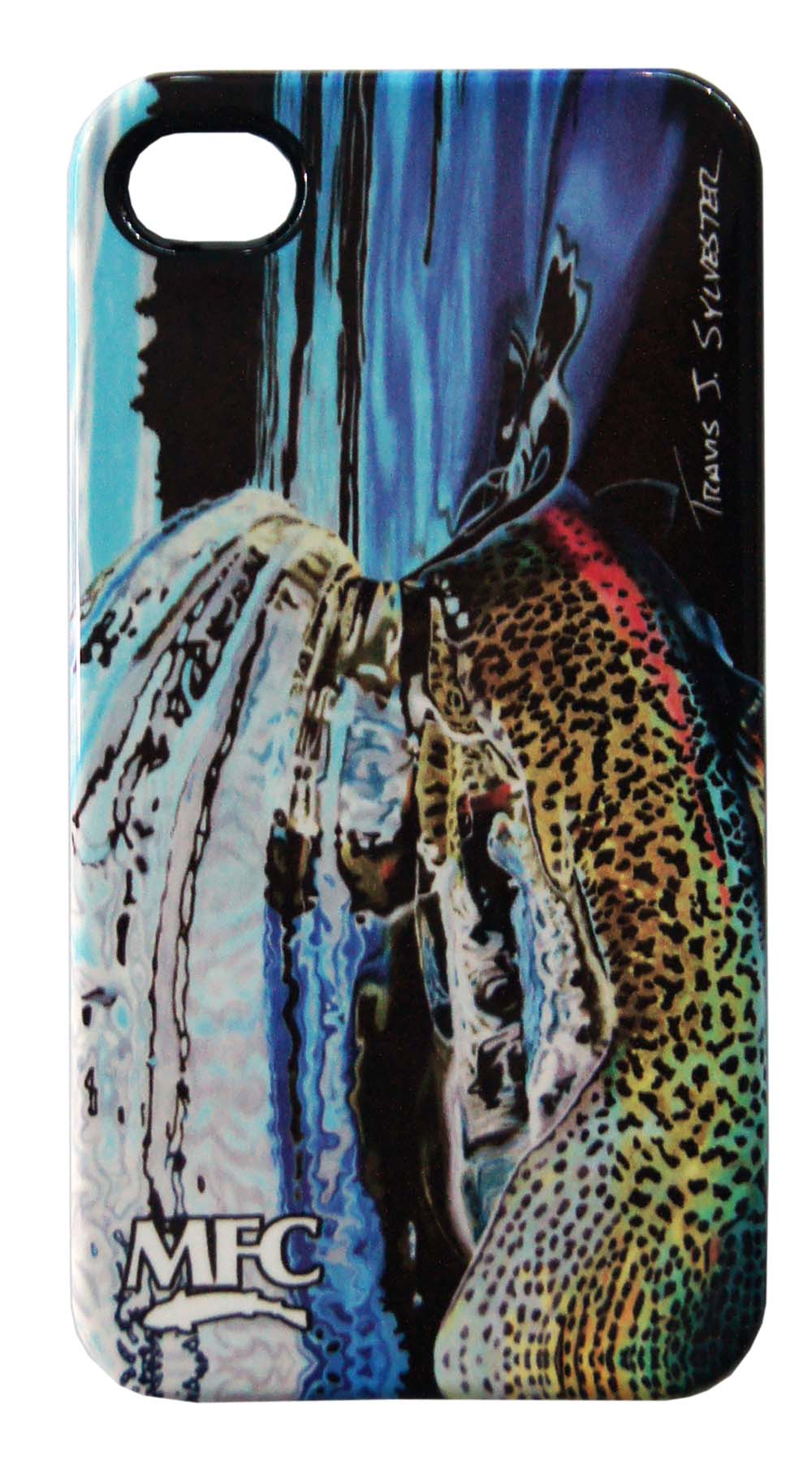 It's going to look like this, only different. Be stoked.
Our lovely and talented in-house sales rep, Stirling Tyler, went out and braved the Montana cold to field test the new MFC Bullcandy streamer. This new fly was tied by Collin Carlson and will be available this year through MFC. Sterling said the fly worked "incredibly well" and while he was on a river that doesn't allow fishing for bullies, he caught this fatty brown to prove it works for any fish with good taste.  The proof is in the pudding, er…candy. We are excited to add Collin's sick streamer to our collection of delicious flies. 
Check out one of our fantastic fly designers and featured "tyer of the moment"  Zack Thurman. He is responsible for more than 30 designs at MFC. Zack has been an avid angler his entire life and began tying flies at a young age. He holds legendary status working at The Fly shop in  Redding, CA. When not cranking away his next creation at the vice, you will find Zack chasing large trout on Stillwaters or Spring Creeks in Southern Oregon and Northern California  in the spring and summer.  And in the fall and winter months he is  chasing Steelhead. Zack has a ton of videos up on the web and he will show you how to tie many of his flies. Check out one of his videos below by clicking on image. Click here for a list of Zack's flies that MFC carries.
Some of our products will be featured on Fiberglass Manifesto's12 Days of Christmas giveaways. It's really simple to enter–just go here to find out the details and see what they are giving away each day. Thursday, December 20th–TODAY–is the day that MFC product will be available to win.  So head over there now and get it done.
Attention all fly tyers!
Once again, MFC is accepting any and all new fly designs and submissions! But, we've got a deadline and it is January 1, 2013. If you have the next big thing, small thing or thingamathing you are ready to share with the world–please share with us.
Here's what to do:
1. Send three of each pattern you are submitting to MFC.
Montana Fly Co.

Attention: Jake Chutz

PO Box 2853

530 First Ave. West

Columbia Falls, MT 59912
2. If you have multiple colors in the pattern line-up, be sure to send at least one of each color.
3. If your fly makes it in, you are suddenly a commissioned MFC tyer! Boom!
Another year, and another opportunity to showcase new and innovative patterns. Happy tying!
The Provo Bros have outdone themselves again–this time with Steelhead and Spines! MFC helped support these two bros (real brothers, not bro brahs) in their epic AK trip with some gear and accessories.
The duo  started their adventure in Alaska with two things on their mind, steelhead and spines. They got what they went to  get, and they had some good times along the way. Watch the video here–it's worth every bit of the eighteen minutes. Also you can spot MFC gear throughout the video:
Oh, you want this. You want this real bad. The new Montana Fly Company Watertight Phone Bag works great for underwater video and fish release pics and all touch screen phones are fully functional inside the bag. Users can even have conversations and text sessions while it's in the bag.  And you can tether it to yourself so if it falls, it doesn't get lost.
MSRP $12.99
TIME IS UP!
That's right fellow 'stachers. It's been thirty days and we've received millions (ok, maybe not millions) of submissions for the MFC Movember contest.
We got a whole load of amazing (some amazingly disturbing) photos and, as promised, we have selected the winner of the contest per which photo on the website got the most likes.
FIRST PLACE: Lisa Brain
SECOND PLACE: Toni Ferrini
THIRD PLACE: Nina Corelli
A HUGE thank you to all who participated. We've had a stellar month and we've loved interacting with all of you. Stay tuned to the MFC Blog, Twitter and Facebook for more contests, giveaways, fishporn and overall awesomeness.  And if you want to see the 'stash gallery, click here.
As most (all) of you know, on November 1st we started the MFC Movember contest. We knew getting into this that we would be getting some pretty epic photos. But we have to be honest that we didn't think we would be receiving as many amazing photos as we have so far. We have drawn the following two conclusions:
1. Our fans are the shit.
2. It's only the second week of November. We still have three and a half weeks left to blow up this contest like a flame on Rogaine.
Send us a pic of your best stache. It doesn't even have to be your own. It can be yours, your dad's, your mom's, your brother's, your sister's…even some random schmo with a caterpillar on his lip you saw stumbling out of the city courthouse elevator with a bottle of whiskey and a child's bicycle. (Does that only happen to us?)
Contest ends at midnight on November 30th, 2012. Until then, check out some of the submissions we have received so far for MFC Movember. Cheers!
The Gear Institute has awarded the Madison IIa Reel with the Best in Class award for 2012. The testers over at The Gear Institute tested the Madison IIa in a series of locations.
From The Gear Institute: Fishing for rainbow trout on the Yakima River, Washington, and the Crooked River of Central Oregon. Casting for (and catching) big rainbows from a drift boat on Idaho's Henry's Fork and South Fork Snake. Beach fishing for Sea Run Cutthroat (SRCs) trout throughout Puget Sound. Testers included myself, Jim Nelson of the Washington Department of Fish and Wildlife, Donna Meshke and Bree Barton – both skilled outdoorswomen and photographers
The Madison IIa came in with a GI90 rating, meaning " Enthusiastically recommended. Exceptional."
We're stoked on the award, but don't take our word for it. Check out the full review here. http://www.gearinstitute.com/gear-tests/item/montana-fly-company-madison-iia?category_id=973